Special Lenses Can See Invisible Marks
UV contact lenses for playing cards are special lenses can see invisible marks, it is a great poker cheating device for make trick in poker game and can suitable to different poker players. With these UV invisible contact lenses, users can see the UV invisible ink marks burned on the backs of regular playing cards, the marks can be printed on plastic cards, plastic-coated playing cards or paper cards, the patterns of the marks we use commonly is a big font on the backs of cards, but we also can designed customized accordance with your specific requirement.
Why the UV contact lenses can see special invisible ink marks?
The UV marked cards contact lenses are different from the regular prescription contact lenses. Our special lenses are made with the customized UV ink filter and advance Sandwich technology, from the appearance, the ink has no difference from the normal lenses, after you wearing them, the lenses will concealable in your eyes. It is not disappear, but just the special invisible ink contact lenses will not change your eyes color after wearing them, and if no special detect or you told others, other people is very very difficult to know you wear them.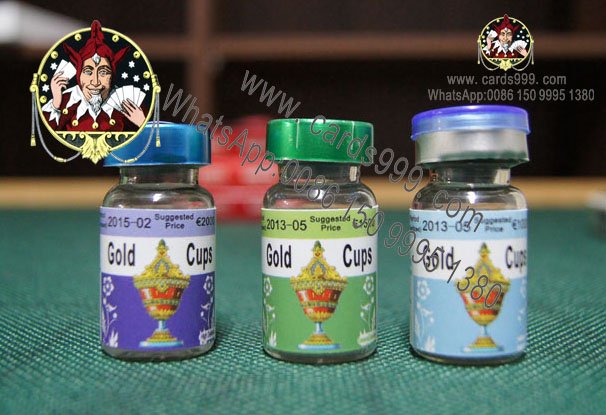 The UV luminous ink poker cheating lenses are made for detect the special ultraviolet light in the spectrum, this special light can be found by people naked eyes. After you wearing the special poker cheating contact lenses, the vision will turn to purplish and the marks on the backs of cards are appear.
Will these special contact lenses for ink will hurt the eyes?
Nope, the special poker cheating lenses are made with the high-quality lenses and strict procession steps, after manufacturing, the lenses will be checked by our professional quality control staff. They will not hurt anybody's eyes, and very safe and convenient to use.
Why choose to buy from GS our company?
When it comes to buying the luminous ink marked cards and contact lenses, you can approach our company because the professional quality of products, to achieve 100% customer satisfaction while providing the best possible service and highest integrity deserve your trust.
As the leading entertainment products manufacturer in China, we have developed various kinds of poker cheating devices which processed with the latest technology and professional technicians. We have always devoted ourselves to developing and improving more methods for developing new technology to satisfy our customer requirements and demands. If you are a fan of the poker games, hoping we can get a win-win situation from our cooperation.
We also have the professional infrared contact lenses can see infrared luminous ink for sale, this magic special contact lenses for playing cards can be used to detected the special infraed ink, another invisible ink to naked eyes for marking cards.
If you are interested in the special lenses can see invisible ink, please contact our professional sales for more information.