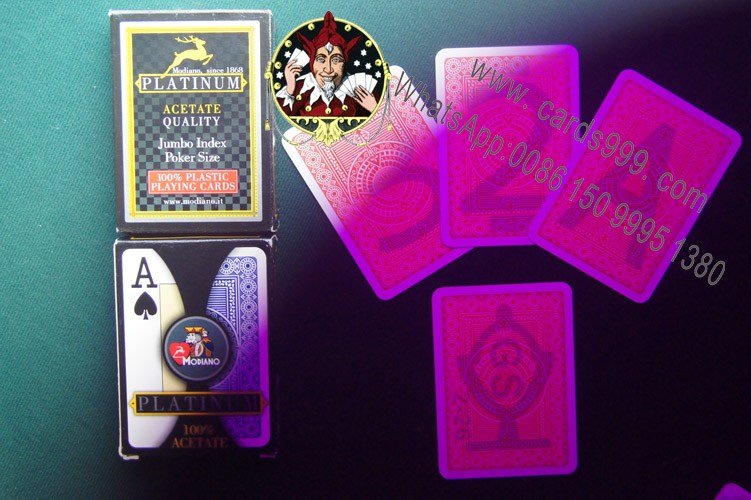 Modiano platinum acetate jumbo magic marked cards
Modiano Platinum Acetate is the finest playing card in the world. Acetate is considered by most experts involved in the science of playing cards as the perfect material for building better playing cards.
Modiano Platinum Acetate Jumbo Index:
1. Made in Italy by Modiano.
2. Casino quality playing cards, 100% Acetate (as Original KEM ).
3. Poker size, jumbo indexed.
4. Great for all poker games or any other card game.
Modiano marked cards contact lenses, are a best kind of ultraviolet marked deck, it can be used as a spy invisible ink playing cards contact lenses.
We use the high-tech to mark the cards, back mark and side mark.
For back mark, with our infrared marked cards sunglasses or poker contact lenses, invisible ink for playing cards, poker games can't be more enjoyable.
Two ways to mark the Modiano uv poker cards:
Blue: Marked with big fonts in the middle of the playing cards
Red: Marked with big fonts in the middle or small fonts in 4 corners
For side mark, with our Omaha poker analyzer system and various scanner camera, you can play the casino game in anywhere.
Short distance scanner: the distance is about 6-90 cm, you can choose lighter camera, car key scanner, chip tray scanning camera, iPhone charger case camera to scan the Modiano barcode marked playing cards.
Long distance scanning camera: the distance is about 1-5 meters, you can install the camera in the ceiling, lamp, wall or somewhere else, just need to make sure Modiano phone analyzer cards are in the scanning distance.
Share This Product